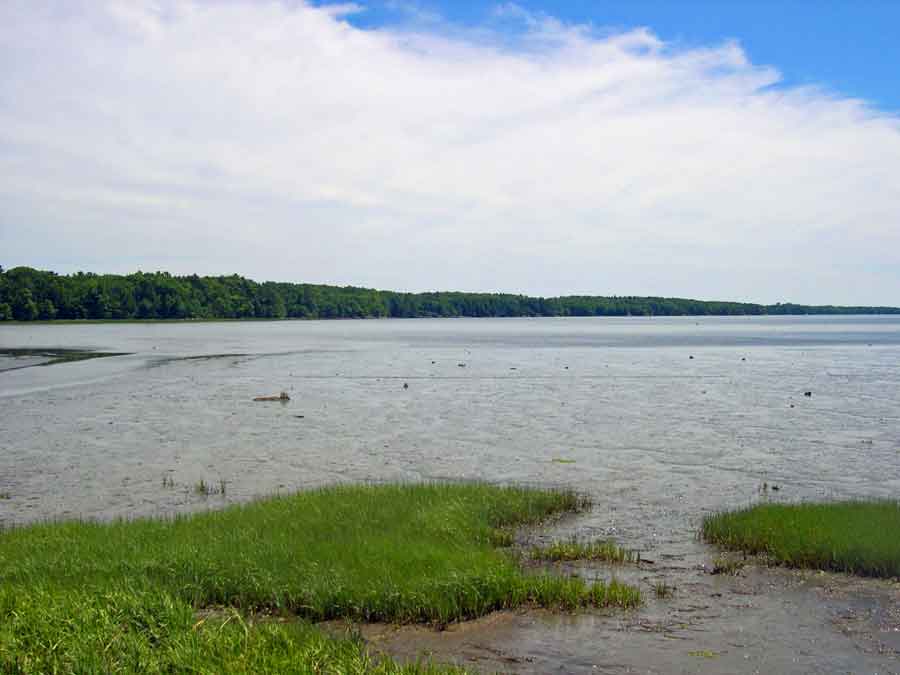 Wharton Point offers one of the best views into Maquoit Bay. This shallow bay is seasonally productive, with dabbling ducks along the edges, diving ducks in deeper water, and flocks of shorebirds in late summer. Falling tides expose acres of mud. Look for sandpipers and plovers. Short-billed dowitchers are common, and long-billed dowitchers have recurred on rare occasions. Dabblers such as American black ducks, teal, mallards, and American wigeons take over as the tide rises, accompanied by great blue herons and occasional snowy egrets. Notable diving ducks include common eidlers, common goldeneyes, buffleheads, red-breasted mergansers, and all three scoters. These can be found in the deeper channels at any tide during the colder months.

Because the bay is so shallow, tide matters in this location. At low tide, shorebirds are distant. But an incoming tide swamps the mudflat quickly. It's best to scope the shorebirds about 4 hours either side of high tide. Naturally, waterfowl-watching is better at high tide.

Directions: In Brunswick, proceed south on Maine Street 0.2 miles past the intersection with Pleasant Hill Road to where Maine Street splits into Merepoint Road and Maquoit Road. Bear right at the split and follow Maquoit Road 1.9 miles to a small dirt parking lot at Wharton Point, which overlooks the bay at a good vantage point. There are no facilities.
478-498 Maquoit Rd
Brunswick, ME 04011
---
---
---
GPS: 43.867583, -69.993361