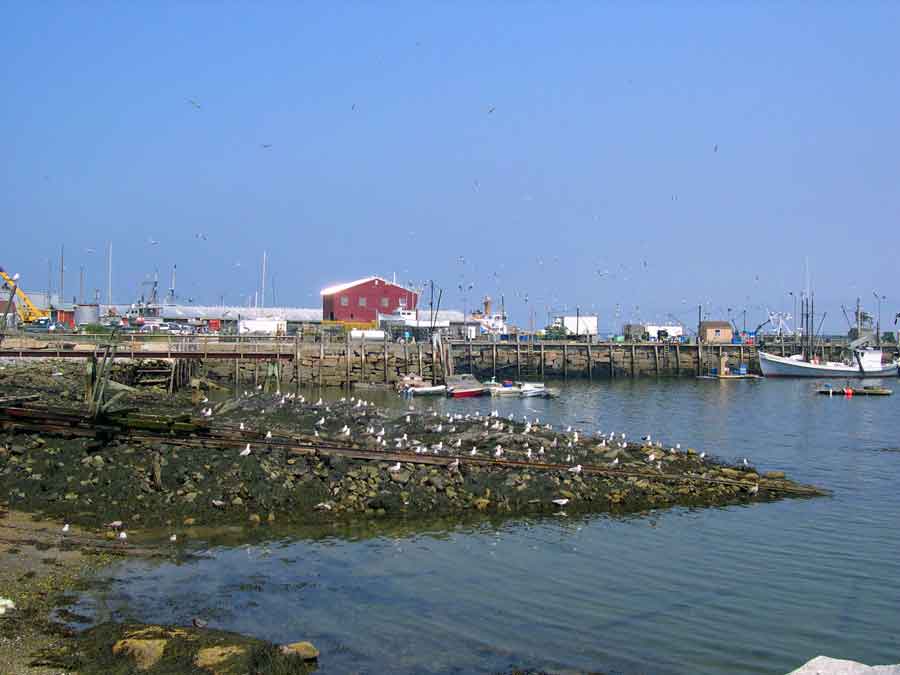 Rockland has a lot of gulls. Herring, Great Black-backed, and Ring-billed Gulls are numerous. A few Laughing Gulls are usually present. Bonaparte's Gulls are found year-round, though they are much more common in spring and from mid-July through autumn. A few Common Black-headed Gulls turn up every year, as noted on Christmas Bird Counts. In winter, scan for Common and Red-throated Loons, Horned and Red-necked Grebes, Red-breasted Mergansers, Long-tailed Ducks, Buffleheads, Great Cormorants, Canada Geese, Mallards, and American Black Ducks. White-winged Scoters are the most commonly seen of the scoters. Greater Scaup occur irregularly.

There are several access points described in the directions below. In particular, the breakwater is an inviting place to bird in winter if temperature and wind cooperate. It's a great spot for Purple Sandpipers and one of the better locations to check for Common Black-headed Gulls and Great Cormorants. King Eiders are occasional visitors. Scan for grebes and loons.

Rockland, Rockport, and Camden are homeports for much of Maine's windjammer fleet. These sailing vessels offer a range of trips, from day sailing to overnight. Because Maine's coastal scenery involves bays, coves, and inner islands, most vessels stay relatively close to land. Common Eiders, Black Guillemots, Northern Gannets, and Wilson's Storm-petrels are often seen on day trips. Overnight trips are more likely to venture out to pelagic waters where shearwaters, jaegers, fulmars, and alcids forage.

In September, 2005, Maine Audubon opened a new Project Puffin Visitor Center at 311 Main Street near the Maine Lighthouse Museum. Visitors enjoy watching live streaming video of breeding Atlantic Puffins from Matinicus Rock, a 15-minute educational film, and interactive maps and exhibits about seabird restoration on many of Maine's offshore islands. It also includes an art gallery and gift shop.

Directions to harbor access in Rockland: The downtown area is anchored on the south end by the police station, The Landing Restaurant, and the fish pier. The Community Building and the Maine Lighthouse Museum are here. Check the gulls on the roofs of the wharf buildings, but take care not to get in the way of operations. The wharf at the end of Tillson Avenue is home to the Coast Guard, a few commercial establishments, and a windjammer pier. Immediately south of the downtown area, Atlantic Point contains modern office buildings and a pier that offers good views. From the bend at Route 1 downtown, follow the signs to Owls Head, then follow Water Street to Ocean Street. In midtown, the Maine State Ferry pier has plenty of parking and viewing for the inner harbor. Just north, a small, seasonal pier used by Atlantic Challenge lies opposite the Knox County Federal Credit Union between James Street and Rockland Street. The breakwater is reached via Waldo Avenue. Proceed half a mile and turn down Samoset Road.
---
---
GPS: 44.104937,-69.1016436