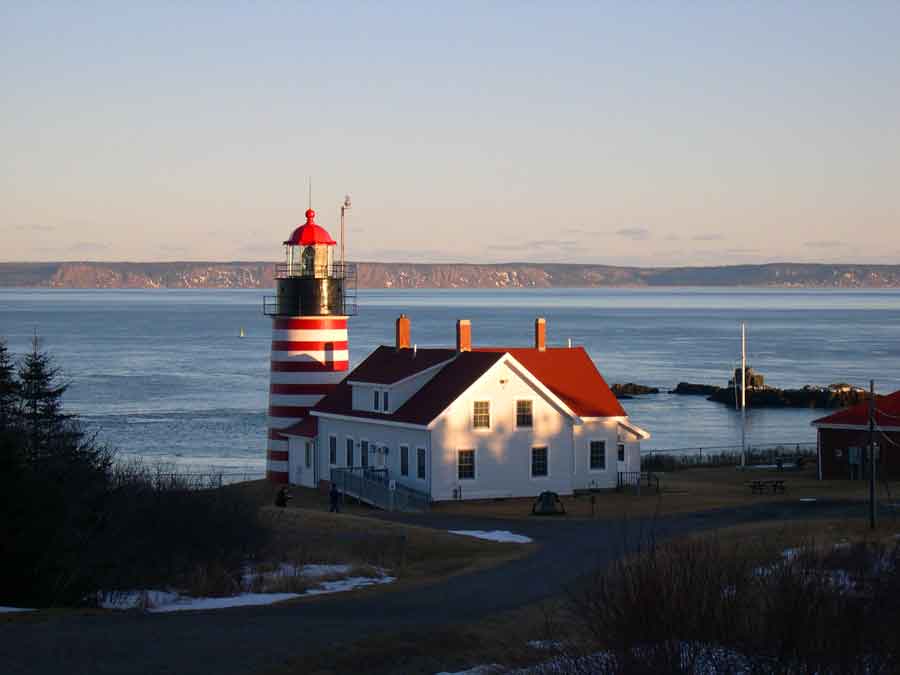 Quoddy Head State Park's beauty, and the birding in this area, cannot be exaggerated. It is home to one of Maine's best-known lighthouses. First established in 1808, it was replaced by the current, candy-striped tower in 1858. Sail Rock, which sits offshore of the head, is the easternmost point of the continental United States. The birds that roost on it vary by the season: double-crested cormorants all summer, black-legged kittiwakes in late summer, and great cormorants throughout winter. It will require good binoculars or a spotting scope to find the black-bellied plovers, ruddy turnstones, and purple sandpipers that often roost on this rock in appropriate seasons.

This is one of the more promising places in Maine to see razorbills from land. Common murres occur less frequently. Black guillemots and common loons are present year-round. Scoters linger offshore in all seasons except mid-summer, joined by long-tailed ducks in winter. Boreal chickadees and spruce grouse are resident, though they visit the trails and edge of the woods infrequently.

The picnic area is a good place to sit and wait for the birds to come to the table. Summer warblers such as magnolia, yellow-rumped, black-and-white, black-throated green and American redstarts work the fringes.

The park's 4.5 miles of trails traverse a variety of habitats. The Coastal Trail pops in and out of the woods, giving great ocean views while keeping boreal species near enough to be heard. The trail passes Gulliver's Hole, a unique narrow chasm formed by the erosion of a vertical fault in the magma. The Thompson Trail is maritime boreal habitat. Black-capped chickadees are more common than boreal chickadees, but both are possible. Golden-crowned kinglets are abundant. The Arctic Bog Trail is exceptional. Not only does it contain an interpretive boardwalk, but the woodland border normally produces palm warblers and yellow-bellied flycatchers. Lincoln's sparrows sometimes nest along the boardwalk, though they are very secretive.

In Washington County, Quoddy Head is the single best place to bird in winter. Sea ducks and alcids are more common. Bald eagles frequent the park and surrounding coves. Although snow may accumulate in the picnic area, and the trails may be too icy, the lighthouse area is often windswept of snow, and good viewing remains possible all year. Naturally, cold days with high winds are painful. But sunny, windless, winter days are a coastal pleasure.

Directions: Follow Route 189 toward Lubec 9.6 miles from the intersection with Route 1 in Whiting. Turn right on South Lubec Road and follow to the end. From Route 191 via the Boot Cove Road, bear right onto the South Lubec Road. The lighthouse area is straight ahead at the end. The picnic area and trails are in a separate parking area to the right. There are pit toilets in both locations.
---
---
---
GPS: 44.813908, -66.952574