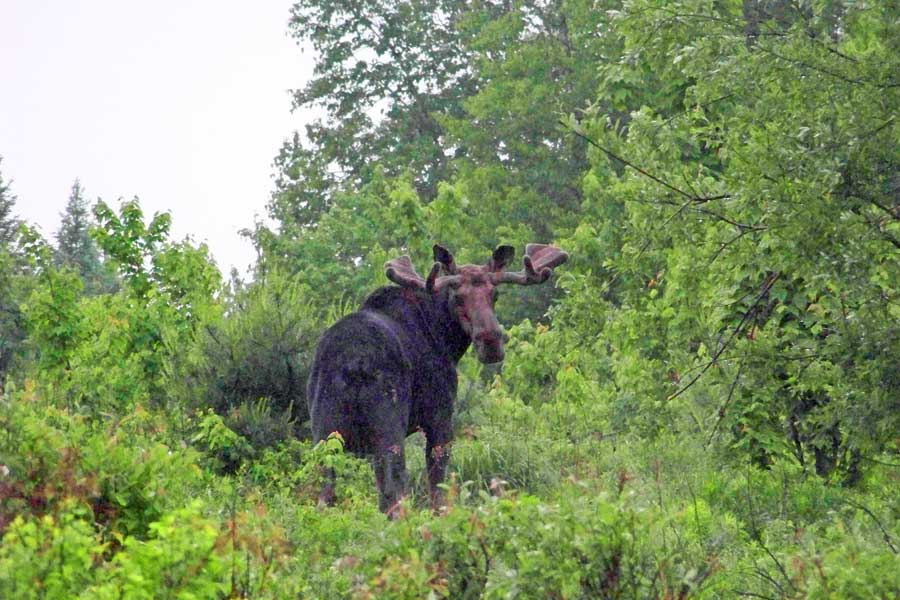 Moosehead Lake is Maine's largest lake. Most of the surrounding forest is managed for timber harvesting, and there are many remote logging roads open to public access for traditional sporting activities. This combination of remoteness and access has made the region excellent for birding in Maine's vast forest.

The Moosehead Lake region is famous for its large moose population, and Greenville is home to the Moosemania Festival every spring. Maine also has the largest population of black bears east of the Mississippi, and encounters with eastern coyotes are a regular occurrence. Beavers can be seen in every small and slow-moving body of water, and they generally become active and visible in the late afternoon. Otters are common in shallow, slow moving waters.

On the west side of Moosehead Lake, two outflows of the Kennebec River cross under Route 15. The East Outlet is about 10 miles north of Greenville Junction. There is a small parking lot and a dirt road just north of the bridge. This is an excellent road for a warbler walk, since there is little traffic. The first 1.5 mile section of this road is the best, traversing a mix of mature hardwoods and conifer species. Canopy warblers such as blackburnian, pine, northern parula, bay-breasted, black-throated green, and black-throated blue are relatively easy to view. At 1.5 miles, the road turns abruptly right into a regenerating clear cut where sparrows and flycatchers can be added to the day's list. At all times be alert for boreal chickadees.

The West Outlet is about 16 miles north of Greenville Junction. North of the bridge, look for a dirt road leading west called Somerset Road. This road also traverses mature hardwood growth and offers many of the same birding opportunities as the East Outlet. However, this road continues for 26 miles to Route 201, and there are homes on the outlet ponds, so it tends to be more heavily traveled. On the other hand, the road brushes past several good views of river, ponds and productive wetland areas, so a walk or slow drive can be equally pleasurable.

Rockwood is the last sure chance for gas and supplies. It is here that Route 15 turns west along the Moose River, heading for Jackman. However, by turning right and crossing the bridge in Rockwood, the Moosehead adventure continues. The Birches Resort lies just a few miles ahead. Beyond The Birches, a well-traveled dirt road extends far into the North Maine Woods. The historic Pittston Farm sits 20 miles north of Rockwood on Seboomook Lake.

The 20-Mile Road leads through experimental plantings of red pine and white spruce where regenerating clear-cuts are home to breeding Lincoln's sparrows and mourning warblers.

Just beyond Pittston Farm, the road continues several miles to the Golden Road, an unpaved artery that runs east/west from Millinocket to Quebec. A fee is charged beyond this point. The road's primary purpose is to serve Maine's working forest, but it also serves as the recreational access to many remote areas, including the Allagash Wilderness Waterway farther north.
---
GPS: 45.458965, -69.591623