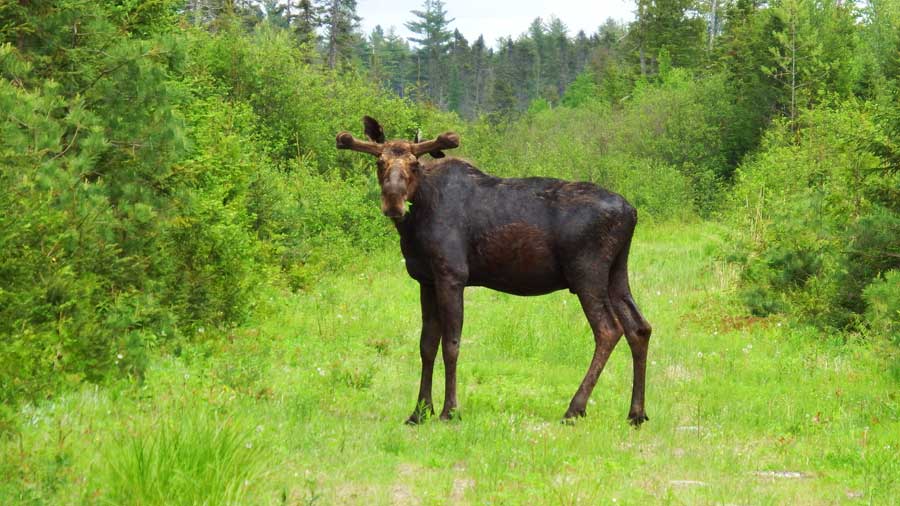 Moosehead Lake is Maine's largest lake. Most of the surrounding forest is managed for timber harvesting, and there are many remote logging roads open to public access for traditional sporting activities. This combination of remoteness and access has made the region excellent for birding in Maine's vast forest.

Scammon Ridge on the east side of Moosehead Lake just above Greenville is one of the better mature forests in the area. Tall balsam fir, thick yellow birches, and elderly beeches predominate. Expect many canopy warblers such as blackburnian, northern parula, black-throated green, and black-throated blue. Ovenbirds and winter wrens are common at ground level. The suggested birding route winds 8.1 miles behind the ridge and traverses several excellent beaver flowages before exiting along Mountain View Lane.
Directions: From Route 15 in downtown Greenville, take the Lily Bay Road north one mile and turn right onto Scammon Road.

Elephant Mountain, like much of the woods east of Moosehead Lake, has been heavily logged. There are now vast stretches of secondary regrowth, experimental plantings of spruce and pine, and mixed hardwoods. American redstarts, magnolia, chestnut-sided, and Nashville warblers are found in abundance in these areas. Tennessee warblers are present in small numbers. This is also an area of small ponds and beaver flowages. As a result, the back country contains a warren of identical dirt roads that crisscross the area, making it easy for birders to lose their way.

An intriguing way to circumvent the problem is to pay one's respects at Elephant Mountain. In 1963 a B-52 bomber on a training mission suffered a structural failure and crashed at the base of the mountain. Most of the wreckage was left intact as a shrine to the crewmen who perished. It is treated with great reverence by Mainers, and ceremonies still take place there every year. Recently, the Maine Air National Guard has erected signs that direct respectful people to the site. Using these signs as navigational tools, it is possible for birders to navigate these roads for an exploration of the area. A visit to the crash site also reminds us of the daily risks undertaken by all those in uniform who protect our freedoms. The "B-52" signs begin on Prong Pond Road at its intersection with the Lily Bay Road. In the clear-cuts just before the crash site, blackpolls are noteworthy among the regenerating spruce thickets.

Lily Bay State Park is on the east side of Moosehead Lake, 8.7 miles north of Greenville. This is a popular park for camping, with semi-secluded sites, a boat launch, and a beach. Tall white pines near the shoreline are lively with pine warblers, and there is a fine assortment of other common warblers, vireos, and thrushes throughout the park. Canada warblers and winter wrens are more often seen than heard during a morning walk along the access road.

Kokadjo is a tiny community 18.5 miles north of Greenville on the Lily Bay Road. Barn, tree, and cliff swallows fill the sky here during spring and summer. Cliff swallows nest under the eaves of the buildings, barn swallows nest in the barn behind the store, and tree swallows take advantage of birdhouses and woodpecker cavities in the area. Birdfeeders outside the restaurant attract purple finches, rose-breasted grosbeaks, American goldfinches, and chipping sparrows, often in large numbers. Common loons, Canada geese, and mallards in First Roach Pond take little heed of people and are always quite close.

For the next several miles north of Kokadjo, including side roads and the road east to Second Roach Pond, there are extensive spruce-fir forests that are very good for boreal specialties. Listen for Cape May and bay-breasted warblers, Lincoln's sparrows, and Canada jays. Spruce grouse are sighted regularly in the area. Harvested woodlots that are regenerating with maple and brambles are good places to look for a mourning warbler. The Appalachian Mountain Club's Medawisla sporting camps are on Second Roach Pond.

Lazy Tom Stream is 1.5 miles north of Kokadjo, bearing left at the first fork, then left again toward Spencer Pond Camps. Just a few hundred yards from the turn, terrifically scenic Lazy Tom Stream crosses under the road. There is always something unusual here. Common mergansers are often present and the wetland is full of Wilson's snipe. Northern harriers are a common sight over the bog. American redstarts and cedar waxwings are usually obvious. Crossbills, particularly white-winged, may be around at any time of year.
---
GPS: 45.458965, -69.591623