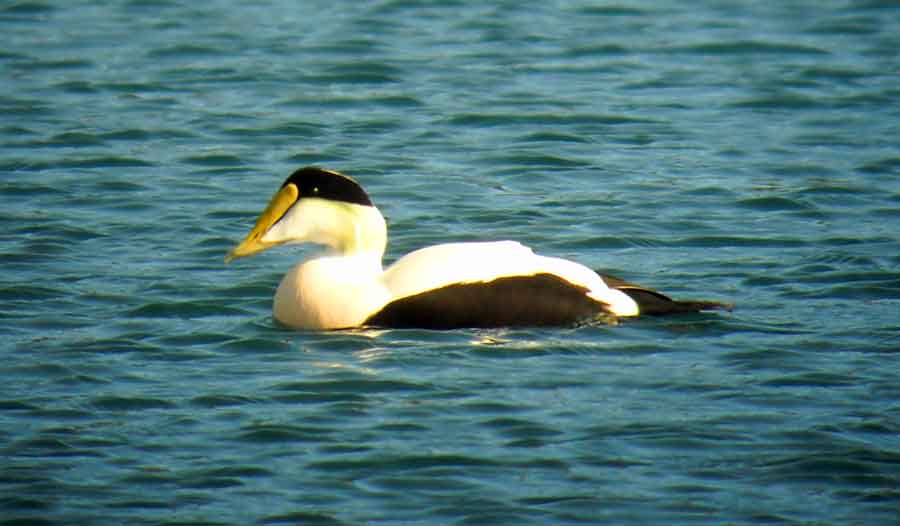 Mackworth Island is productive year-round. The hundred-acre island sits at the mouth of the Presumpscot River overlooking a wide swath of Casco Bay. It is home to the Baxter State School for the Deaf, which dominates the high ground. A security guard is posted at the entrance, but the island is public and there is parking just beyond the guard booth. A footpath circles the island near the shoreline, providing views of rocky shores and mud flats.

The mile-long path is popular, so expect a leisurely pace. Scan for waterfowl at high tide and shorebirds at low tide. In winter, eiders, grebes, scoters, goldeneyes, long-tailed ducks, and buffleheads are prominent. Greater scaup show up in some years. Pine warblers arrive and begin singing in late April. Other migrants follow in May and a dozen different species may be encountered during a stroll. However, most passerines do not linger to breed and they move on before Memorial Day. In summer and autumn, the causeway is productive for semipalmated and black-bellied plovers. Entree Fee.

Directions: From I-295 in Portland, head north and bear right at Exit 9 on Route 1 North towards Falmouth Foreside. After crossing the bridge, look for the third right turn (Andrews Avenue) and follow the signs to Baxter School. From the north, the turn is on the left just a mile past Maine Audubon's Gilsland Farm.
Mackworth Island
Falmouth, ME 04105
---
---
---
---
GPS: 43.689262, -70.231185