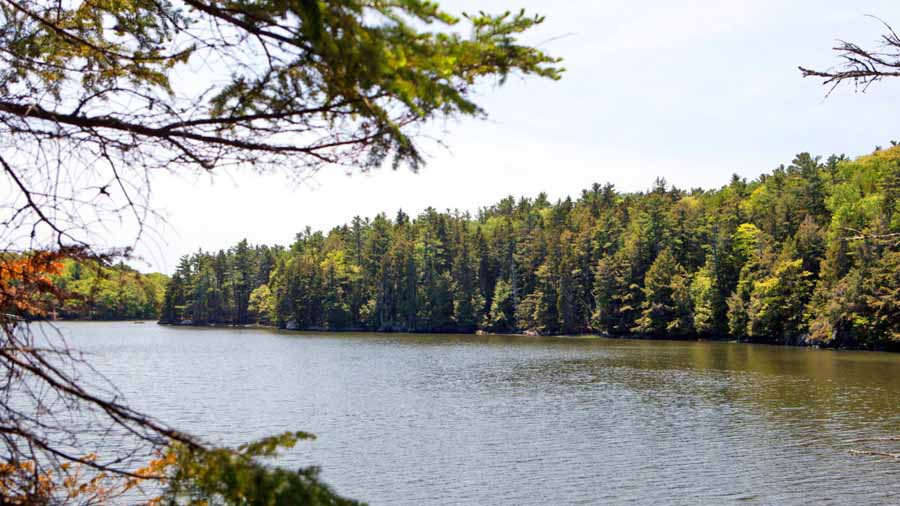 Josephine Newman Sanctuary is under the stewardship of Maine Audubon. It is sandwiched between two branches of Robinson Cove on mature forested upland. There are three blazed trails that total 2.5 miles of hiking. The shortest is a blue blazed, self-guided, geology trail. Though only 0.6 miles, the terrain is steep and varied. This trail traverses mostly mature pines and hemlocks, and is home to Black-capped Chickadees, Red-breasted Nuthatches, Hermit Thrushes, and common woodpeckers. Pine and Blackburnian Warblers are typical. The Rocky End Trail is blazed in red and branches off the Geology Trail near the cattail marsh. This trail is 1.25 miles and ascends through deciduous forest to the highest point on the preserve. Warblers include Black-throated Green, Northern Parula, Black-and-White, and Ovenbird, as well as Red-eyed and Blue-headed Vireo. The orange-blazed Horseshoe Trail is 0.75 miles and represents the easiest hike.

Indian River in Georgetown is sometimes a hiding place for waterfowl. On the way to Reid State Park, it's worth a quick peek. Just to the east of Josephine Newman Sanctuary, look for a small, easily overlooked road that leads to Indian Point. The small pond that abuts the entrance to this road merits a scan, especially for Hooded Mergansers. The next pond is even more likely to contain them, usually in the off-season.

Directions: From the junction of U.S. Route 1 and Route 127 in Woolwich, just east of the Woolwich-Bath bridge, head south on 127 for 9.1 miles to Georgetown. Turn right at the sanctuary sign and follow the entrance road to the parking area.
849 5 Islands Rd
Georgetown, ME 04548
---
---
---
---
GPS: 43.8011956, -69.7525816