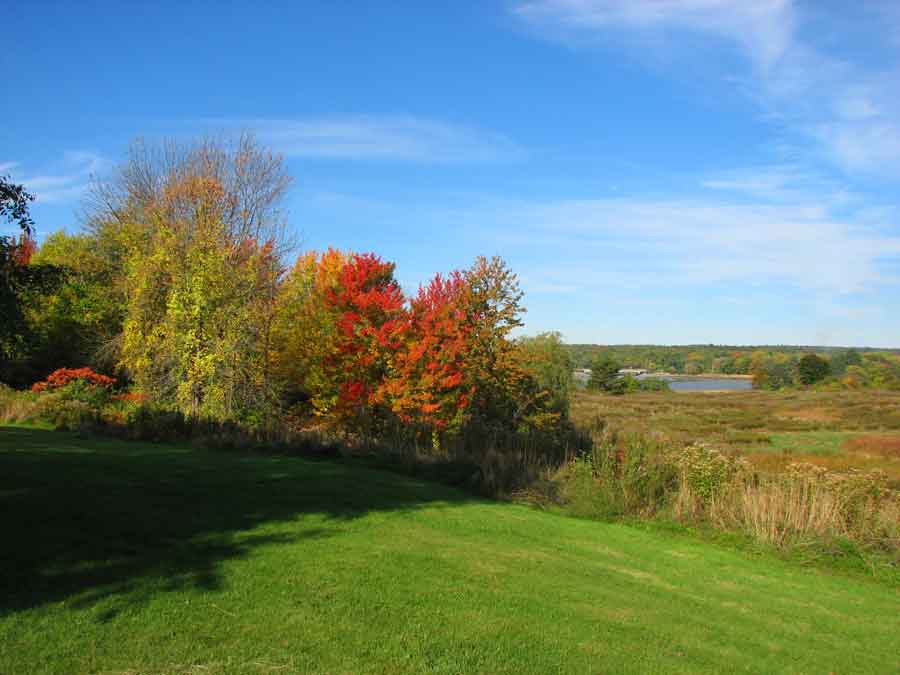 Gilsland Farm is Maine Audubon headquarters in Falmouth, just across the bridge from Portland. The 65-acre sanctuary is open and is free for visitors during daylight hours and there is a store at the visitor center that is well stocked with field guides, optics, accessories - plus advice about the most recent sightings and hot spots. Feeders around the center attract purple and house finches, American goldfinches, sparrows, and a variety of other seedeaters. Tree and Barn swallows nest on site. Bobolinks populate the meadows and are seen from the walking paths.

Three trails provide a total of 2.5 miles of easy walking and birding. The West Meadow Trail winds through a small, forested wetland before circling the meadow. There are two blinds off the trail that allow good looks at the Presumpscot River estuary. Watch for waterfowl in winter and shorebirds in summer. The Pond Meadow Trail ventures through mature hardwoods and hemlocks, continuing to an apple orchard and down to a pond where wading birds keep company with muskrats. The North Meadow Trail also passes through a grove of mature red oaks and hemlocks before entering the meadow. Canada Geese frequently forage this field in winter. It's also a good place for migrating hawks and owls. Spruce, red sumac, and speckled alder border the fields and are good for warblers.

Directions: From the north: take I-295 to exit 10 and then left on Bucknam Road. At the light turn right onto U.S. Route 1 and continue south for one mile. After the blinking light at the intersection of Routes 1 and 88, the entrance to Gilsland Farm Road is on the right at the light blue sign. From the south: take I-295 to exit 9. Continue 1.9 miles north on U.S. Route 1 and turn left onto Gilsland Farm Road at the light blue sign, immediately before the intersection of Routes 1 and 88.
20 Gilsland Farm Rd
Falmouth, ME 04105
---
---
---
---
GPS: 43.70685, -70.24109