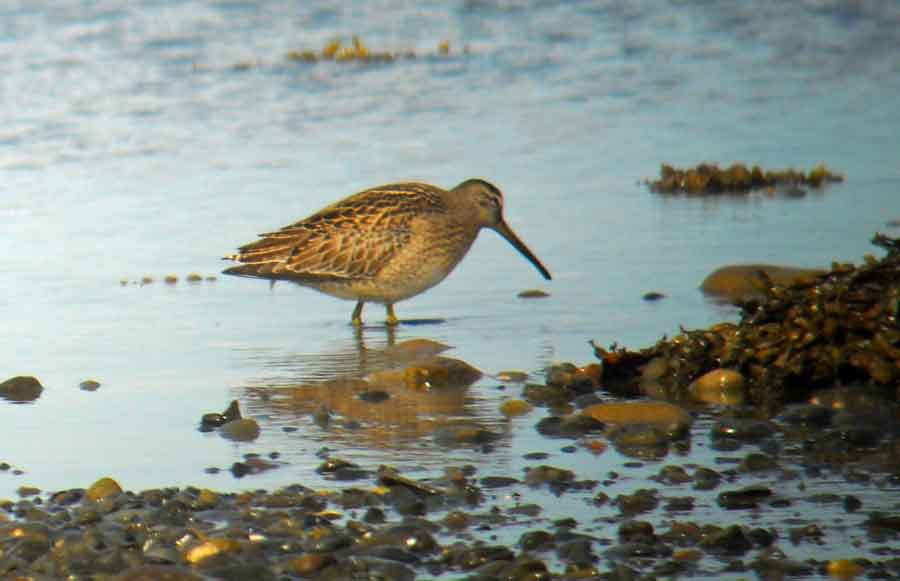 Crescent Beach State Park in Cape Elizabeth is a popular spot year- round, due to its sheltered southern exposure. The accumulation of people tends to keep the birds off the beach after early morning. In the summer, the park gate is closed until 9am, but it is permissible to park on the main road taking care not to block the entrance. In winter, this is the only option and there can be many vehicles parked on a nice day. Sanderlings sometimes work the beach even in the dead of winter. On the fringe of the winter season, stay alert for horned larks, Lapland longspurs, and snow buntings.

The beach is indeed a mile-long crescent, so any seabirds present are easily observable. The woods and a freshwater pond make the park noteworthy. The spruce-fir mix is more typical of habitat further up the coast, increasing the variety of conifer-loving thrushes, warblers, kinglets, and finches. There is also a trail into the woods near the entrance gate. A small pond is just west of the parking lot on the approach to the beach. Most of it is screened by cattails, but this is the domain of nesting marsh wrens and swamp sparrows. Dabbling ducks are sometimes present in summer.

Directions: From north or south take Route 77 to Two Lights Road. From the north, it's about 5.4 miles from the bridge in Portland. From the south, it's 5.5 miles from the intersections of Routes 207 and 77 in Scarborough.
109 Bowery Beach Rd
Cape Elizabeth, ME 04107
---
---
---
---
GPS: 43.563878, -70.228552