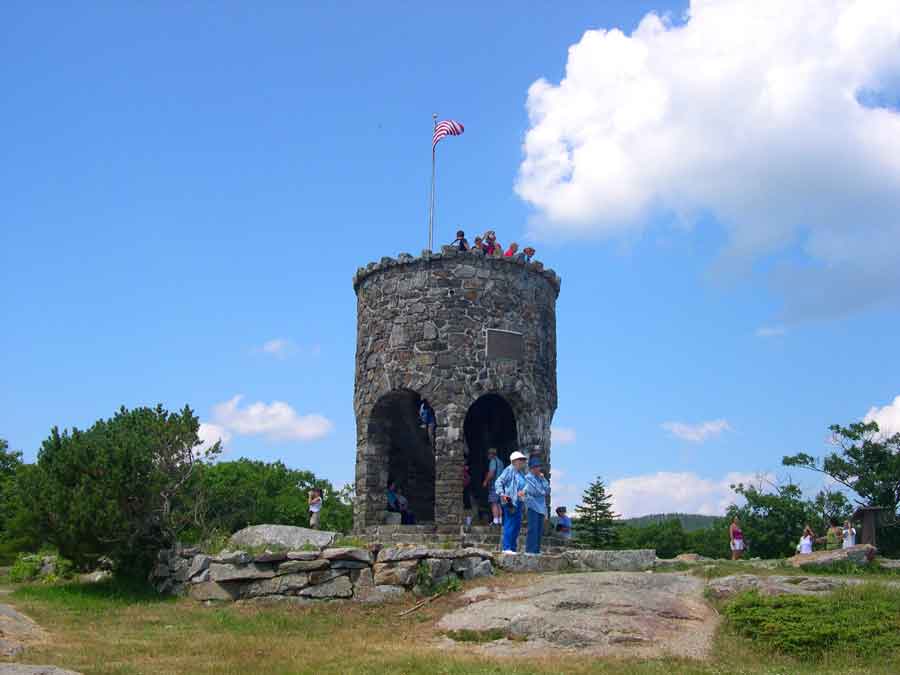 Camden Hills State Park doesn't usually offer rarities, but it does provide most of Maine's common species in a splendid hiking environment. Over 25 miles of trail cross a series of peaks, marching through mixed forest. Views of Penobscot Bay are stunning. Park residents include such normal warblers as Black-throated Green, Black-throated Blue, Northern Parula, Magnolia, Black-&-White, Nashville, Chestnut-sided, Yellow-rumped, Blackburnian, Ovenbird, and Common Yellowthroat. Veery, Wood, and Hermit Thrushes are all found in the park. Least and Great-crested Flycatchers are common. Pileated, Downy, and Hairy Woodpeckers, Yellow-bellied Sapsuckers, and Northern Flickers are plentiful. Turkey Vultures, Scarlet Tanagers, Rose-breasted Grosbeaks, and Eastern Towhees are summer residents, while Ruffed Grouse may be found in any season. The summits of Mt. Megunticook and Mt. Battie are fruitful during hawk migration, and any of the eastern species may be encountered. Sharp-shinned, American Kestrel, and Broad-winged Hawks are the most common, but Cooper's Hawks, Northern Harriers, Merlins, Peregrines, Ospreys, and Bald Eagles pass by regularly.

Although Mt. Battie is only half the height of Megunticook, the auto road to the tower at the summit makes it more convenient. The tower was constructed in 1921 as a World War I monument. It stands upon the former site of a summit hotel that existed from 1898 to 1920. There is a small entrance fee to use the auto road.

Directions: The entrance is prominently marked on Route 1 north of Camden. Two other entrances to the back side of Camden Hills State Park are found on Route 52, just west of town and adjacent to Lake Megunticook. Another entrance that is popular with birders - because it is wide, less crowded, and moderately more birdy - is found in Lincolnville at the intersection of Route 173 and the Youngtown Road.
280 Belfast Rd
Camden, ME 04843
---
---
---
---
GPS: 44.230779, -69.047871