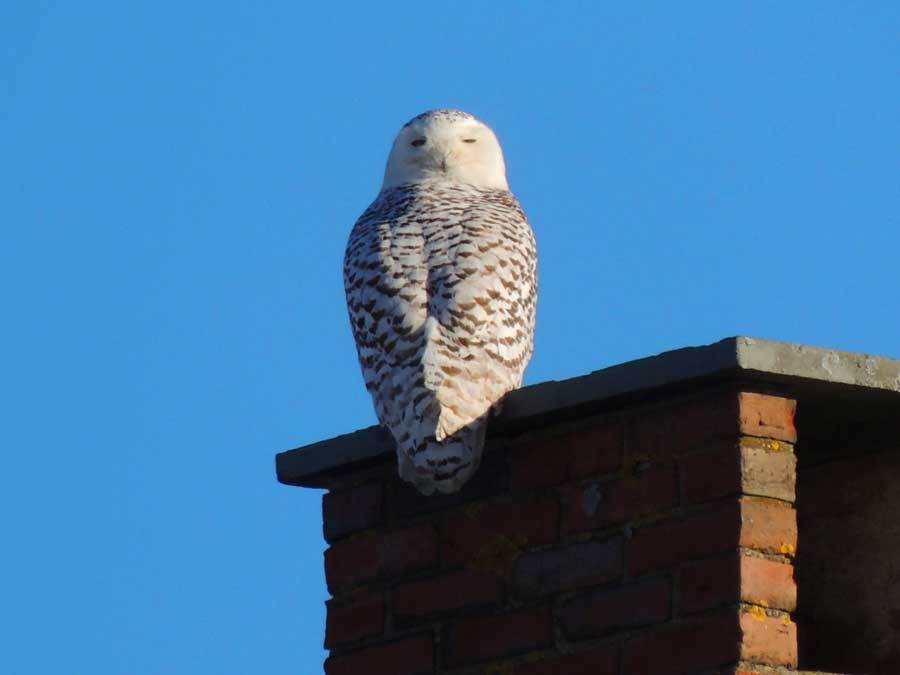 Biddeford Pool is another of Maine's exceptional year-round hot spots, though parking is very limited in summer. There are three key areas.

1) The mile-long tidal pool dominates the area. It is surrounded by private property, but there are viewing spots along the road for distant ducks, waders, and shorebirds. This area is a frequent spot for snowy owls in winter. Look for them on roof tops, sign posts, and on the ground near the water.

2) East Point Sanctuary is a small Maine Audubon property with paths that wander along the cliffs over 30 acres. There is limited room to park near the entrance gate, which is at the end of Main Street / L.B.Orcutt Drive, where it intersects with Ocean Ave. The trail starts behind a small chain link fence, and winds between an estate and a golf course for a short distance, until it reaches the open plateau. Excellent seabird watching surrounds this plateau. Scan distant Wood Island to the north in winter, as snowy owls like to perch on and around the lighthouse.

3) Ocean Avenue lies at the end of Maine Street and abuts the point and its seawall. Parking is very limited. Scan the waters for sea ducks - King Eiders occur occasionally - and scan the rocks for shorebirds in season. Pay close attention to the islands. Snowy owls and rough-legged hawks are recurring rarities.

Directions: from Route 9, turn onto Route 208 and follow 1.8 miles to an intersection at the southwest corner of the pool. (A right turn leads to Fortunes Rocks Beach.) Turn left and follow to the end, stopping at good vantage points. Avoid parking in the road or in driveways.
Biddford Pool
---
---
---
GPS: 43.44590, -70.33984